What we eat in our regular diet affects our aging process and skin treatment. Various packed and non-packed food products in the market claim to slow down the formation of wrinkles and glow your skin better. Who doesn't love glowing skin? A correct diet & regular exercise can help to get a glowing complexion. Here are some food tips which can help you to regularize your aging process: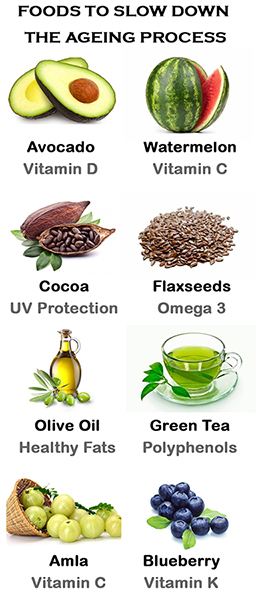 1. Make use of butter more than margarine, as butter is better in retaining the youth of yours's skin.
2. Say Goodbye to Alcohol drinks as they always damage the elasticity of your skin which makes your skin dull and tired. Wine, beer, and liquor can dehydrate your skin, leaving it quenched for moisture.
3. Artificial Sweeteners are a highly concentrated source of calories that don't fill you up, so it's easy to see how a high-sugar diet can promote weight gain. A high intake of sugary foods and beverages has also been linked to high cholesterol, high triglyceride, and an increased risk of developing type 2 diabetes.
Continue reading "FOODS THAT SLOW DOWN THE AGEING PROCESS AND FORMATION OF WRINKLES"